Bulletin for 04-16-17 Pascha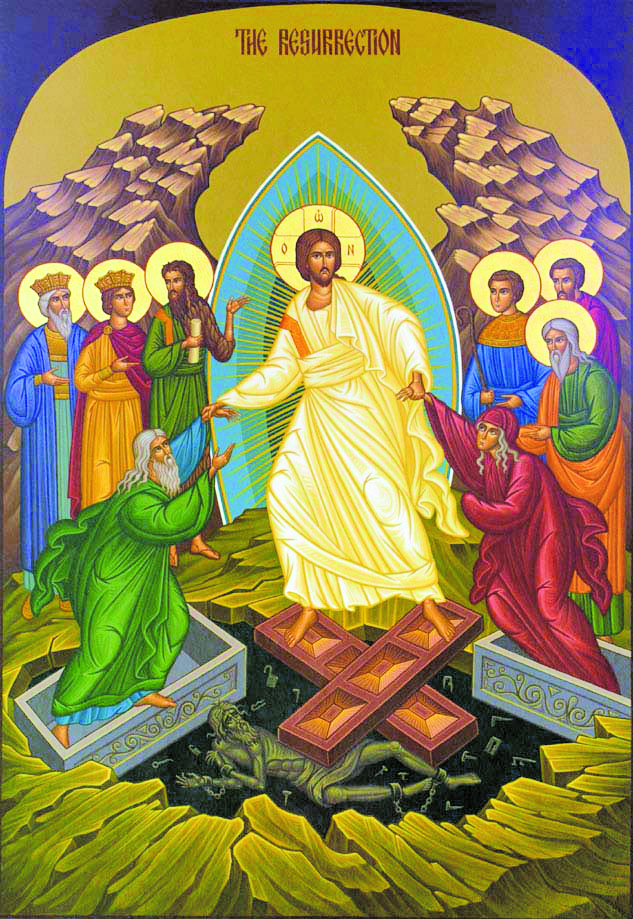 Christ is Risen! Indeed He is Risen!

Христос Воскрес! Воістину Воскрес!
Apr. 16 – The Bright Resurrection of Christ. The Pascha of the Lord.
Ven. Nicetas the Confessor, abbot of Medikion (824). Virgin-martyr Theodosia of Tyre and Martyr Irene (308). Ven. Illyricus. Martyrs Elpidephorus, Dius, Bithonius, and Galycus (3rd c.).
---
Apr. 23 – Antipascha. 2nd Sunday of Pascha, of St. Thomas. Tone 1
St. Hypatius the Wonderworker, bishop of Gangra (ca. 360). Ven. Apollonius, ascetic of the Thebaid (395). Martyrs Abdas the Bishop and Benjamin the Deacon, of Persia (424). Ven. Hypatius the Healer of the Kyiv Caves (14th c.).
Lit.: 1 Corinthians 11:23-32

;
Matthew 26:1-20

; John 13:3-17

;
Matthew 26:21-39

; Luke 22:43-45

;
Matthew 26:40-27:2

; Matthew 26:6-16

;
Liturgy of St. Basil the Great
---
Services and Events
16 April, Pascha - Easter
6am – Midnight Nocturns
6:30am – Procession and Matins
8am – Resurrectional Divine Liturgy
9:30am – Blessing of food baskets and Breakfast
17 April, Bright Monday:
19 April, Bright Wednesday:
7pm – Finance Committee Meeting
22 April, Saturday:
23 April, St. Thomas Sunday:
9am – Confession / Hours
9:30am – Divine Liturgy
Memorial Service for Mary Gormish
24 April, Monday:
7pm – Parish Council Meeting
Prayers and blessing for travelers will be done after the Liturgy upon request.
Молитви і благословення для тих хто збирається подорожувати будуть після Служби Божої за просьбою.
---
Patriarchal Encyclical
for Holy Pascha 2017
+ B A R T H O L O M E W
By God's Mercy Archbishop of Constantinople-New Rome and Ecumenical Patriarch
To the Plenitude of the Church: May the Grace, Peace and Mercy of the Christ Risen in Glory be with you All
Beloved brothers and sisters,
children in the risen Lord,
"In the world you shall have tribulation; but be of good cheer, I have overcome the world" (John 16

.33) is the reassurance of the Lord, who alone trampled upon death by death, to generations of men and women. "Christ is Risen!" is the cry that we, too, pronounce to all people far and wide from this Sacred See, which has experienced worldly crucifixion and tribulation; but it is also the See of resurrection inasmuch as it is from this corner of the planet, the City of Constantine, that we proclaim "the victory of life" that dispels every form of corruption and death itself.
During his earthly presence, the Lord frequently warned His disciples about the tribulation that would result from his sacrifice on the cross at Golgotha but also because of their ministry and life in this world – both their own as well as all those who believe in Christ. However, he also added a very significant detail: "You will weep and lament, but the world will rejoice; you will be sorrowful, but your sorrow will turn into joy . . . So you have sorrow now, but I will see you again and your hearts will rejoice, and no one will take your joy from you." (John 16

.20-22)
This paschal and spiritual joy was first experienced by the Myrrh-bearing women, who came to the tomb of the life-giving Christ, with the Lord's greeting in a single word: "Rejoice!" (Matt. 28

.9) The same paschal joy is emphatically professed by the Mother Church of Constantinople today: "This is the day of the Lord; let us rejoice and be glad in it." (Psalm 117

.24) The final enemy, death, sorrow, our problems, corruption, tribulation, and trials: all of these are crushed and abolished by the victorious divine-human Lord.
However, we live in a world where the mass media of communication constantly transmit misfortunate news about terrorist attacks, local wars, destructive natural phenomena, problems of religious fanaticism, hunger, the refugee crisis, incurable diseases, poverty, psychological pressure, feelings of insecurity and other similarly undesirable conditions.
In the face of these daily "crosses," which human beings endure with reluctance, our holy mother Orthodox Church comes to remind us that, as Christians, we can be glad because our leader Christ has proved victorious over them as the bearer of joy, who brings gladness to the whole universe.
Our joy is based on the conviction of Christ's victory. We are completely assured that good has conquered all things, that Christ came to the world "and left us in order to be victorious." (Rev. 6

.2) The world that we shall eternally inhabit is Christ, who is light, truth, life, joy and peace.
Despite its daily crosses and sorrows, the great Mother Church of Christ exclusively and solely experiences this phenomenon of joy. It experiences – from and within this life – the heavenly kingdom. From this sacred center of Orthodoxy, from the bosom of this martyric Phanar, "on this effulgent night," we proclaim that the extension and purpose of the cross and all tribulation, the resolution of all human pain and suffering, is the Lord's reassurance: "I will not leave you as orphans." (John 14

.18-19) "Behold, I am with you all the days of your life, to the end of the ages." (Matt. 28

.20) This is the message that all of us should hear, that the contemporary world should hear in order to surrender to and discern Christ on the road to Emmaus. Indeed, Christ is beside us. And we shall see Him only if we hear and experience His word in our life.
This message – of the victory of life over death, of the triumph of the joyful light of the paschal candle over the darkness of disorder and dissolution – is announced to the whole world from the Ecumenical Patriarchate with the invitation to experience the unwaning light of the resurrection. We invite you all to stand with faith and hope before the risen Christ and before the mystery of life. We invite all of you to trust the risen Lord, the master of joy and delight, who holds the reigns of the entire creation.
Christ is risen, then, brothers and sisters!
May the grace and boundless mercy of the lord of life and master over death be with you all.
Phanar, Holy Pascha 2017
+Bartholomew of Constantinople
Your fervent supplicant to the risen Christ
---
The Paschal Epistle
---
First Confession
On Holy Saturday four of our parish children came for the first time to offer their confession. They had been taking special class as a preparation for this moment with Erica Hatala, Kristi Lomonaco and Fr. Ivan. Today they completed the Mystery of Confession by partaking of the Holy Body and Blood of Christ during the Divine Liturgy. Those four beautiful children are: Quinn Sophia Hatala, Kimberly Kocak, Anastasia Reporyeva & Julia Catherine Lomonaco.
---
Sharing our Blessings:
A special collection of goodwill donations will be taken on behalf of our St. John's Ukrainian Refugee and Humanitarian Fund following the blessing of baskets in the Memorial Center on Easter Sunday.  We thank you in advance for your kindness in sharing your blessings with those in need.
If you are unable to come that day please consider to do on-line donation through safe PayPal system.
---
Paschal Season
From Pascha to Pentecost we are not kneeling or doing prostrations. The prayer "O Heavenly King…" is omitted until Pentecost.
During all Bright Week there is no fasting. Instead of Morning and Evening prayers "Paschal Hours"
---
Please Note!
Fasting before Holy Communion is required from everyone over seven years of age (Confession age).
Only Orthodox Christians may receive Holy Communion or other Sacraments.
If you have not been to confession in over a month, please go to confession before receiving the Holy Gifts.
We fast from all food and drink (including water) from bedtime (the previous night) until we receive the Holy Gifts during morning Divine Liturgy.
That also means no coffee, no cigarets, no gum, candies in the morning and during Divine Liturgy.
---
Prayers
Please keep in your prayers departed servants of God:
Mary Gormish (Apr. 24, 2016)
George Nicholas Dudik (Apr. 26, 2016)
Stamatia Dimitriou (Aug. 1, 2016)
Andrew Baranyk (Aug. 29, 2016)
Irene Kanazawich (Nov. 22, 2016)
John Maliwacki, Sr. (Nov. 25, 2016)
Joseph Zapach (Feb. 5, 2017)
---
Please Pray for the Servants of God
Fr. Bazyl Zawierucha, Fr. Ilya Gotlinsky,
Fr. Vasyl Dovgan, Barry Kinney,
John Baranyk, Paul Chebiniak,
Melanie Klish, Mariann Kocak,
John Haluska, Marion Kaspryk,
Millie Charnetsky, Linda Kocich,
Chuck Sarnoski, Claudia Bahriak,
Millie Bogdan, Carol Kapacs
---
Upcoming Readings
Mon. Apr. 17 – Acts 1:12-17

, 21-26; John 1:18-28


Tue. Apr. 18 – Acts 2:14-21

; Luke 24:12-35


Wed. Apr. 19 – Acts 2:22-36

; John 1:35-51


Thu. Apr. 20 – Acts 2:38-43

; John 3:1-15


Fri. Apr. 21 – Acts 3:1-8

; John 2:12-22


Sat. Apr. 22 – Acts 3:11-16

; John 3:22-33

---
Happy Birthday
Apr. 16: Hania Lewkowicz
Apr. 17: Maryann Eagan
Apr. 17: Tamara Chebiniak
Apr. 17: Jean Sankowski
Apr. 18: Nadya Wasylko
Apr. 19: Benjamin Holicky
Apr. 21: Kimberly Kocak
---
St. John the Baptist
Ukrainian Orthodox Church of the USA
Bulletin - Бюлетень
Українська Православна Церква
св. Івана Хрестителя

---
1 St. John's Parkway,
Johnson City, New York 13790
www.stjohnuoc.org
Parish E-mail: StJohnUOC@gmail.com

Priest: Fr. Ivan Synevskyy
Ph: (607) 797-1584
Priest's E-mail: fr.i.synevskyy@uocusa.net

Parish Council President – William Klish
Ph.: (607) 797-5043
E-mail: mak260jc@gmail.com

Vice President – Michael J. Dobransky
Ph.: (607) 729-0334
E-mail: dobranskymichaelj@gmail.com